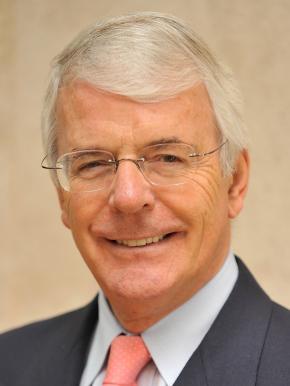 Former Prime Minister of the United Kingdom and Northern Ireland.
Formerly Chairman of the Council of Management, The Ditchley Foundation (2000-09). Joint President, Chatham House (2009-22).  President Emeritus, Chatham House (2022-).
Member of Parliament (Conservative), Huntingdon (1979-2001); Prime Minister & First Lord of the Treasury (1990-97); Chancellor of the Exchequer (1989-90); Secretary of State for Foreign & Commonwealth Affairs (1989); Chief Secretary to HM Treasury (1987-89); Minister of State for Social Security (1986-87); Parliamentary Under-Secretary of State for Social Security (1985-86); Lord Commissioner of HM Treasury (senior Government Whip) (1984-85); Assistant Government Whip (1983-84); Parliamentary Private Secretary to Minister of State, Home Office (1981-83).
Current Business Appointments: Senior Adviser to Credit Suisse; Chairman, Advisory Board, Global Infrastructure Partners.
Sir John remains Patron or President of a number of UK and International Charities, including: Chairman, Campaign Board, King's London; Patron, Mercy Ships; Patron, Consortium for Street Children; Patron, Foundation for Peace; Patron, SeeAbility Sight Pioneers;  President, Asthma + Lung UK;  President, Vision Foundation.
An Honorary Governor (2011-), and formerly Chairman of the Council of Management (1999-2009), The Ditchley Foundation.