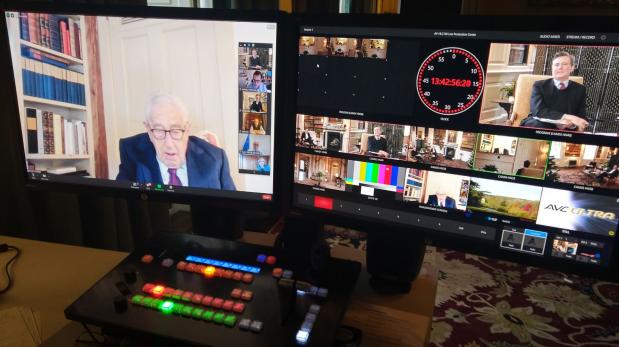 A Ditchley conference in honour of Dr Henry Kissinger (December 2020)
'World Order: what can and should it mean today?' was a landmark conference for Ditchley, held in honour of Dr Henry Kissinger. The event began with a conversation between Dr Kissinger and Bloomberg News Editor-in-Chief John Micklethwait. Other conference participants included former Prime Minister of Australia, The Honourable Malcolm Turnbull; former Prime Minister of Finland, Alex Stubb; from China His Excellency Dai Bingguo and Madam Fu Ying; from Silicon Valley, Dr Eric Schmidt and Ms Julie Brill; and American Ditchley chairman Ambassador Nicholas Burns, who were joined by others from across the United States, China, the United Kingdom, Europe, Russia, India, Australia, Canada and other countries.
The aim was to explore the extent to which the ambitions and fears of the major powers for world order are compatible or conflicting and to identify how to build on convergence of interests and mitigate the risks flowing from divergence.
Working across multiple zones across 24 hours, participants took part in group discussions on the US and democratic perspectives, the Chinese and the Russian perspectives on world order, as well as on renewing the power and appeal of democracy, before coming together for final plenary sessions.
The discussion with Dr Henry Kissinger about his hopes and fears for world order drew on the themes in his 2014 book: a country must ask what does it want to achieve, what must it stop happening, and what might it achieve with allies?
Dr Kissinger warned that the Cold War is not a good comparison to our current situation which, in his view, is more akin to the set of circumstances in play before the First World War. It is important to maintain dialogue between the United States and China seriously and to think about how to defuse potential tensions. 
As regards China, Europe might be expected to side with the US, but some uncertainty or reticence can be perceived.  On relations between the US and Europe, Dr Kissinger thought that the UK could (still) be a bridge with the EU. Regarding Russia, there was a warning not to expect it to revert to ambitions to become a democracy as it once did, and a warning not to ignore it. Particularly as the US makes the transition to a new presidency, there was a reminder that domestic politics determines what a country can do, more than strategy and this is particularly important now within the US.
The threat from technology was particularly highlighted, with the advance of AI in security systems further on than most of us realise. From a business perspective, the effect of AI is to concentrate wealth and power in a few platforms, with implications for democracy and regulation. While business increasingly wants or has to take values into account alongside commercial interests, democracy is in danger of losing its appeal, among younger generations especially, as it is no longer seen as a guarantee of rights or wealth creation. 
World order cannot mean restoration of the Western liberal hegemony that has been lost: something new needs to evolve, otherwise there is a risk of great fracture, with two sets of values and spheres of influence. It is possible however to hope for stable tension and important to realise that some issues cannot be solved by democracies alone – not least climate change.
The World Order conference was by invitation but was followed by a debriefing session between a panel of conference participants and the wider Ditchley community as part of the Ditchley Winter Project.
The full conference report will appear on the Past Events page soon. The thumbnail can be viewed here.