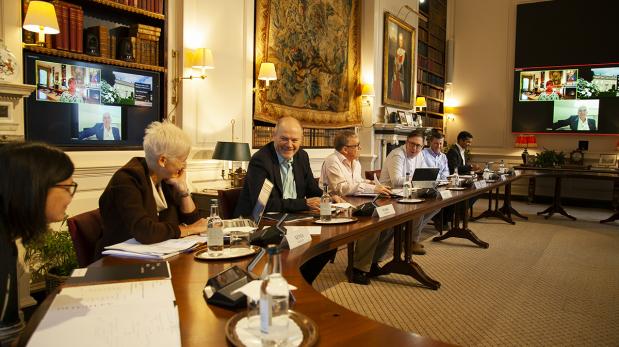 Among the main themes, captured in the Ditchley community debrief, from the conference on The United States: headed for renewal or bound for division?, held on the 10 September 2021, were:
Crisis of democracy. In the US we are witnessing a crisis of democracy not seen since the assassination of Martin Luther King and social protests in 1968.  The Republicans and Democrats are further apart than ever and we can expect to see volatility for the foreseeable future.
Texas. What is going on in Texas is a metaphor of the current worries and makes the US appear ungovernable. 
Resentment.  There is a tremendous build-of resentment which is becoming more secular. Almost every American has a grievance and a fear—even those who have enjoyed economic stability feel they are going to be hurt and there are huge swathes of the population who have already been hurt.
Zero-sum game?  The US is currently in a zero-sum game.  But romanisation of the US is not helpful in achieving progress.  Haven't minority communities in the US always felt disenfranchised and vulnerable? The difference now is that we know about it and there is an urgent need to recognise it.  Does the US therefore need to renew or take a new and different path?
Electorate organising. Diversity of the population is at an all-time high – evidently, minority groups are gaining much more presence and political power. Electorate organising, as witnessed in the last election, is key to reaching historically disenfranchised voting groups.
US leadership not to be taken for granted. Following withdrawal from Afghanistan, it feels like the US is on probation and it is important to recognise the impact the Trump administration had on reputation. The world has historically been dependent on the US as a hegemon but that can't be taken for granted.
Impact of domestic turmoil.  "You can't wring your hands and roll up your sleeves at the same time." US global policy towards China requires attention but it is hard to formulate strategy when in such domestic turmoil.  Leaders need to get back to diplomacy.  
National dialogue.  A shared national narrative is required, and we need to find a solution to the damaging impact technology and social media platforms have had on fraying the national dialogue through disinformation.  Everyone has a responsibility to fight this one.
Technology adoption. Are we in a cold war of technology?  What do we want the end goal to be?  What technology should we adopt, or not?  What actions does the US take as a country when picket lines are crossed?  Should incident agreements be put in place in the Indo-Pacific so we can lessen the chance of escalation?
Shared ownership. There are innovative ways to increase shared ownership and participation in the economy.  There is a huge role for the private sector in making this shift and in the meantime reasserting their purpose.   It is a remarkably difficult time but time for an opportunity too.
Investing in public goods.  Policy changes which have been most effective are constitutional ones—federal government policies, for example, have reduced poverty. The US could greatly benefit from investing in public goods—education, welfare and healthcare—to generate higher productivity and heal itself. 
Reasons for optimism.  There are no easy answers but there are reasons for optimism: The economy and corporate America are in 'rude health'; the strength of institutions is still prevalent—the rollout of the COVID-19 vaccine in record time is testament to this. There is desire amongst the people to get things done.
Longer term. Looking longer term, we can see that the US has gone through intense strife and many periods of turmoil before.  Each time she has emerged from the ashes and is likely to do so again.
Click here for a link to the terms of reference for the conference.