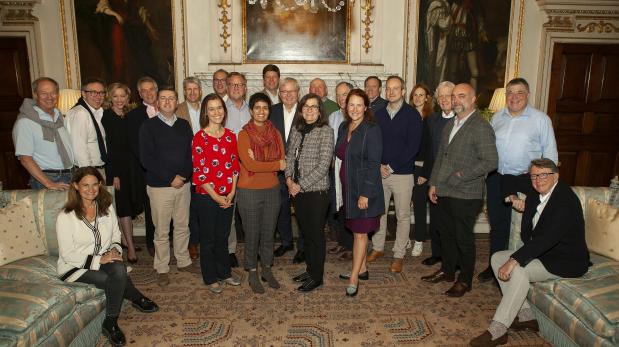 On 11 and 12 October 2019, Ditchley hosted a high-level discussion on the future of the UK and US relationship in collaboration with the Annenberg Foundation Trust at Sunnylands and the Asia Society Policy Institute. The event commemorated the 50th anniversary of Walter Annenberg's appointment as ambassador to the Court of St James and launched what Ditchley and the Annenberg Trust plan to be sustained effort to reimagine the UK and US relationship for the 21st century and the new world order emerging.  Walter Annenberg was a friend and supporter of Ditchley during his time as US ambassador.
For this gathering, Ditchley and Annenberg convened senior figures from the armed forces, politicians, ambassadors, technologists, China specialists and security experts from both sides of the Atlantic. The discussion was chaired, as a critical friend of both countries, by The Honorable Kevin Rudd, President of the Asia Society Policy Institute in New York and formerly 26th Prime Minister of Australia.  We focussed on three central themes:
How can the UK and US develop a more coordinated approach to the rise of China whilst protecting our overlapping, but not identical, interests?

How can we combine our scientific knowhow, research programmes, higher education systems and the financial centres of London, New York, and Silicon Valley to drive technological innovation, allowing us to lead in the fourth industrial revolution? 

In both countries a series of "culture wars" are raging – what can we learn from each other and how can we help each other find national and transatlantic common ground to underpin a return to less fraught and less hyper-partisan politics?
We made progress in understanding the implications of all three themes but arriving at shared positions will take more discussion, which is what we plan for the years ahead.  This will be through face to face discussions but will also be enabled by Ditchley's innovative "Bridge" project to develop more effective channels for sustained Transatlantic exchanges and by Ditchley's mapping and engagement of the community of people shaping Transatlantic policy.
This conference contributes to Ditchley's work on the UK's role in the world, the renewal of democracy and world order.