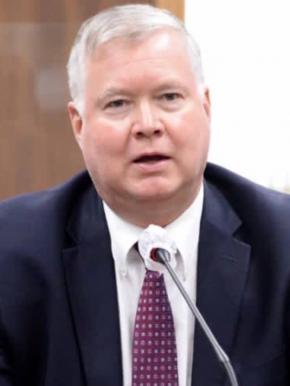 Former Deputy Secretary of State (2019-2021)
Stephen E. Biegun has more than three decades of international affairs experience in government and the private sector, including high-level government service with the Department of State, the White House, and the United States Congress.  
In 2021, Mr. Biegun concluded his most recent government service as the Deputy Secretary of State, to which he was confirmed by the Senate with a strong bipartisan vote of 90-3.  Prior to his most recent government service, Mr. Biegun served as 15 years as a corporate vice president with Ford Motor Company.  
Mr. Biegun began his career as a international affairs specialist with the United States Congress, serving in both the United States Senate and House of Representatives with a focus on Russia, the former Soviet Union, and Europe, and ultimately rising to a number of senior-level positions including as chief of staff of the Senate Foreign Relations Committee and as the national security advisor to the Senate Majority Leader. He served two years as the Executive Secretary of the White House National Security Council, serving as an advisor and deputy to the National Security Advisor.  From 1992-1994, Mr. Biegun was the Resident Program Director in the Russian Federation for the International Republican Institute. 
Mr. Biegun has volunteered as a board member for several international, national, and local non-profit organizations and has led mentoring programs for next generation United States foreign policy and national security leaders. He graduated from the University of Michigan, Ann Arbor with a Bachelor of Arts degree in Russian language and political science.
A Member of the Board of Directors, The American Ditchley Foundation.