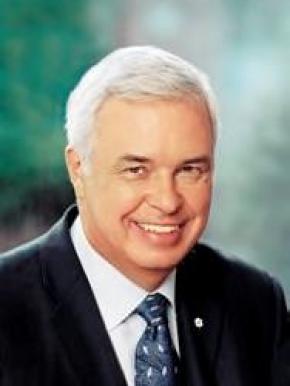 Senior Business Advisor, Dentons Canada LLP
Pierre Lortie is a Senior Business Advisor at Dentons Canada LLP. He is also a Director of ECN Capital Corp.
Pierre is Chairman of The Schmeelk Canada Foundation; President of the Canadian Ditchley Foundation; Honorary Governor of the Ditchley Foundation (U.K.); Director of the Research Center of the McGill University Health Center; a Director of the Marine Biotechnology Research Center and a Director of the Montreal Cancer Institute.
Pierre served as Governor of the Council of Canadian Academies, President of the Canadian Academy of Engineering and as member of the Asia Pacific Foundation Taskforce on Canada's strategies towards the regional institutional architecture that governs in Asia and of the Advisory Group on Enhancing cooperation between Australia and Canada in the Asia-Pacific of the Centre for International Governance Innovation (CIGI).
Pierre held senior executive positions at Bombardier until December 2003 where he served as President and COO of Bombardier Transportation; President and COO of Bombardier Capital; President and COO of Bombardier International; and President of Bombardier Aerospace, Regional Aircraft. He has been Chairman, President and CEO of Provigo Inc.; President and CEO of the Montréal Stock Exchange and a Senior Partner of SECOR Inc.
Pierre held several government appointments. He served as Chairman of Canada's Royal Commission on Electoral Reform and Party Financing. He was a representative of the Prime Minister of Canada on the APEC Business Advisory Council (ABAC) from 1999 to 2003. He also served as a member of the Panel of Advisors of the China Development Research Foundation of China's State Council (Beijing). In the technology field, he served as Vice Chairman of Canada's National Advisory Board on Science and Technology and as Chairman of the Centre for Information Technology Innovation.
He served as Chairman of the Montréal Demerger Transition Committee and he directed, as the Representative of the public authorities, the PPP procurement of the new McGill University Health Center (MUHC), the Centre hospitalier universitaire de l'Université de Montréal (CHUM) and the Research Centre of the CHUM.
He received an M.B.A. with honors from the University of Chicago, a license in applied economics from the Université Louvain, Belgium and a Bachelor's degree in applied sciences (engineering physics) from  Université Laval. He was awarded a Doctorate Honoris Causa in civil law from Bishop's University and he was awarded the Distinguished Service to Canada Award by the Public Policy Forum. He received his  Certification from the Canadian Institute of Corporate Directors. He was elected Fellow of the Canadian Academy of Engineering in 1988 and appointed Senior Fellow of the C.D. Howe Institute in 2019.
Pierre was appointed member of the Order of Canada in 2001 and was the Recipient of the Queen's Diamond Jubilee Medal in 2012.
An Honorary Governor (2021-), The Ditchley Foundation and a Member of the Board of Directors, The Canadian Ditchley Foundation.