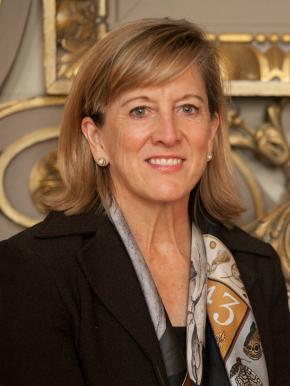 CEO, Ridge Clean Energy. President, The Glasgow Foundation.
Marjorie is the CEO of Ridge Clean Energy, a UK renewable energy company.  Previously she co-founded RidgeWind and served as Managing Director.  Marjorie has been involved in starting, building and operating energy businesses since 1983.
Marjorie also serves as President of the Glasgow Foundation and between 2013 and 2018 chaired The Thomas Gifford Trust during which time the Trust developed and built a community hub with a library, sports hall, studio and café for the town of Charlbury.
Marjorie has been based in Oxfordshire, England since 2004, and was previously based in Houston and northern California. She is married to Dine Glasgow and they have two grown children.
Marjorie is a graduate of Stanford University. She is very involved with international equestrian sport.
Marjorie serves as Her Majesty's Lord Lieutenant for Oxfordshire beginning in 2021
A Governor (2018-) and Member of the Council of Management (2020-), The Ditchley Foundation.