When not in use for conferences and other activities, the Mansion and grounds are open to the public for private tours, on Monday to Friday, by prior arrangement.

These tours are most suitable for those with an interest in 18th Century architecture, decorative art and landscapes. There are of course considerable historic links with Elizabeth I, Winston Churchill and Anglo-American relations.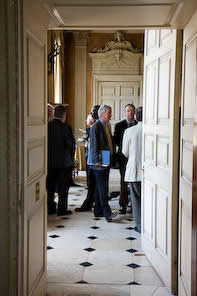 Charges
Guided tours are priced at £20.00 per person (minimum charge of £100.00) to include tea and biscuits.
For more information or to book a tour, please contact the Bursary Assistant on: 01608 677346 or sandi@ditchley.com